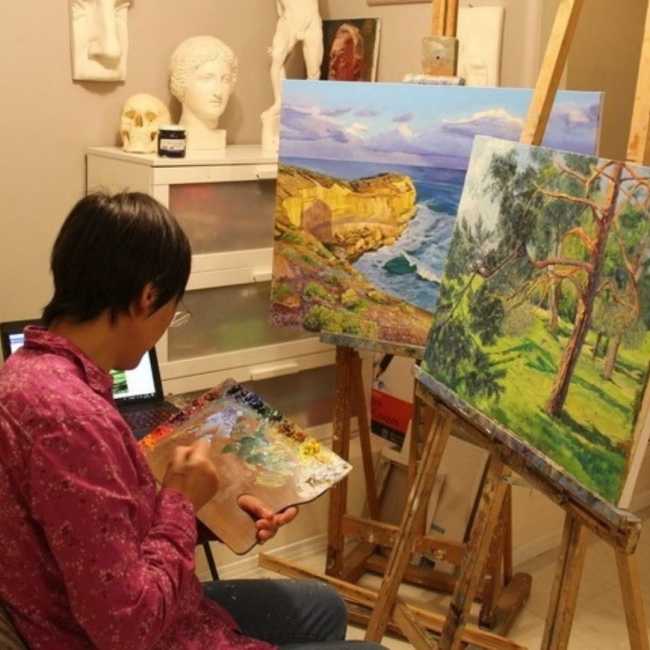 What do The Starry Night, Whistler's Mother, and Mona Lisa have in common? Apart from the fact that they are among the best artworks in the history of humankind, they are all oil paintings. The level of detailing that a talented artist can achieve with the help of oil paints is spectacular. Oil painting is considered one of the most challenging techniques to master. However, with the help of good oil painting classes, you should be able to grasp it well with time.
Here are some tips to help you master oil painting:
Hold the brush the right way
This might sound like very simple advice for someone looking to be an expert oil painter. As easy as it sounds, holding the brush correctly is the first and most important tip you should implement. Holding the brush as far away from the tip as possible is recommended for having greater control. This way, you will be able to manage the sensitivity of the strokes with greater accuracy.
Experiment with the palette knife
A palette knife is a tool used by artists to mix colours. However, sometimes using a palette knife instead of a brush is recommended for drawing unconventional strokes. By doing so, you will add more layers and depth to your painting. Good oil painting classes will encourage budding artists to challenge themselves by using a palette knife.
Stick to the basics
When you begin working with oil paints, you could get overwhelmed by the choices you have to make. From which colours to choose to brushes to use, you might find it challenging to make decisions that could work best for you.
Our advice is to keep it simple. Initially, use primary colours. Use a simple flat brush and use linseed oil as the medium. Sticking to the basics until you are comfortable enough to try new things is a good way to approach oil painting.
If you are looking for creative oil painting classes, VR School of Art is the place for you. We are one of the leading drawing classes in Toronto. With us, artists of all levels can polish their skills. Contact us now to know more.